FREE Mrs. Meyer's Hand Soap, $10 Credit, and FREE Shipping at ePantry!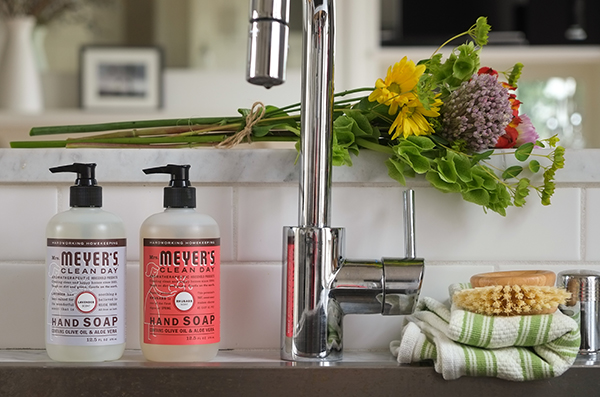 ePantry is my favorite all-natural subscription service.
ePantry is known for carrying all-natural cleaning & personal care products. They offer some of the best green and healthy products around!
A few months ago I started ordering cleaning and personal care products from ePantry.com. I love how much easier it has made my life!
A few reasons I love ordering ePantry:
1. Saves Time
I can set up my order in a few clicks. It's quick and easy (much faster than going to the store!).
2. Saves money
Items are often on sale, and even when they aren't they are available at great prices (less than retail).
3. Keeps me stocked up on items I need
I never have to make an emergency trip to the store because I've run out of essentials (like dish soap!) ePantry helps me stay fully stocked. This saves me time and money as well!
4. They carry my favorite products
One of my favorite dish soaps is method dish soap in grapefruit. ePantry has it. So, I always have it too.
Here is a picture of a few of the items I received in my previous orders:
Some of the things I regularly order are: wood floor cleaner, dish soap, dish soap refill, hand soap and refills, sponges, lip balm, candles, and toothpaste.
Simply sign up, answer a couple questions, and ePantry delivers right to your door.
Plan out a delivery schedule months in advance, or customize an order when you need one.
Special Offer – ENDS 8/3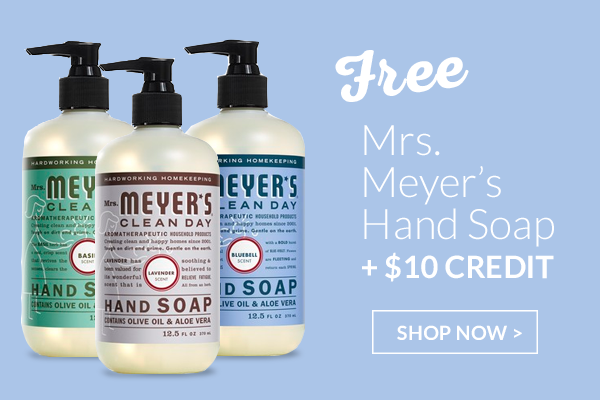 My readers will get a Free Mrs. Meyer's Hand Soap, Free $10 Credit, & Free Shipping for first-time orders!
I am so happy to offer this to all of you, since Mrs. Meyer's is amazing!
Mrs. Meyer's products are full of plant-derived ingredients and essential oils. They smell great and are good for the environment (and for you!). Plus, they actually work (you know how some natural cleaning products don't seem to work well at all?).
How ePantry works
This special, limited-time offer is only available now through August 3rd, so sign up with this link.
Next, answer a few easy questions about your home, cleaning schedule, and favorite products. ePantry uses your answers to get a feel for what you like & to suggest products for future shipments. 
Customize your basket! This is definitely the most fun part. (It's nice when shopping is an enjoyable experience! Especially when you don't even have to get out of your pjs!)
Including the hand soap and $10 off, your total must come to at least $20. The minimum is for first-time orders only.
Once you have filled your basket, click Finish & Pay. Your free hand soap and $10 credit will already be included.
Example basket:

I have put together an example basket to demonstrate the amazing value of this offer! Of course, I highly recommend taking a look through ePantry's full lineup. They have a lot to choose from & they are adding more all the time!

Mrs. Meyer's Hand Soap – free with our offer!

Grove Pop-Up Sponges: $4.50

method Dish Soap: $3.89

method Wood Floor Cleaner: $6.11

Mrs. Meyer's Multi-Surface Cleaner: $3.89

Seventh Generation Tall Drawstring Trash Bags: $5.49

Seventh Generation Disinfecting Bathroom Cleaner: $4.39

Seventh Generation Shower Cleaner: $4.39

Seventh Generation Toilet Bowl Cleaner: $4.39

With a $10 credit, the total for this basket comes to $26.85, a $54+ value! 

And shipping is FREE!
ePanty is not your usual subscription service.
What makes ePantry different?
ePantry is serious about the earth. 
Not only can you order eco-friendly products simply and inexpensively, but with each order placed, ePantry donates 25 square feet of rainforest, and each shipment is carbon offset.
They are not just talk, ePantry takes action.
ePantry is flexible.
I wasn't sure I would like it. I'm not usually a fan of subscription services. But, ePantry is different.
With ePantry, you are not locked in to any set schedule, but can order what you want, when you want. ePantry will make suggestions, but these can be edited at any time. The products you receive are entirely up to you.
Refer friends and family, get $10 off!
If you refer friends and family to ePantry, each person you refer will get $10 in credit for their first order! And, more good news! You will also receive $10 in credit for each person who checks out. It's a win-win!
To top it all off, ePantry has exceptional customer service! I've found them to be friendly, easy to work with, and fast!
They even offer an extra $2 off if you answer the question in the chat box.
If you want safer cleaning and personal care products at great prices and with less hassles, definitely give ePantry a try!
Special Offer for A Delightful Home readers:


Free Mrs. Meyer's Hand Soap, $10 Credit, & Free Shipping for first-time orders!

Offer is good until 7/31!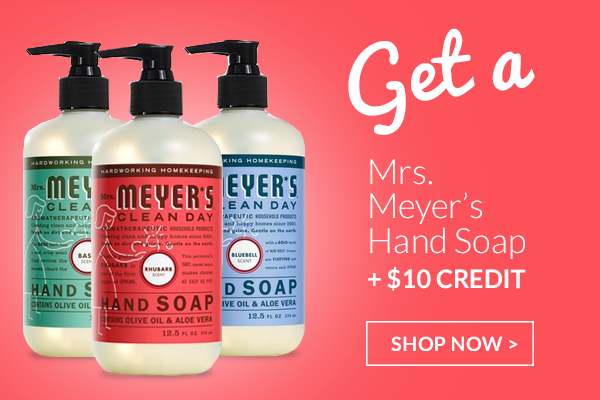 What cleaning or personal care items would you enjoy having delivered right to your door?
Pin this post:
Stacy is a DIY obsessed, healthy living advocate. A preacher's wife and mom of three, she loves to encourage others to live a natural lifestyle.
Latest posts by Stacy Karen (see all)